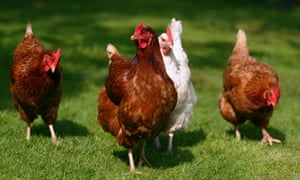 Many thanks for Joanna Blythman's timely reminder ("Is chlorinated chicken about to hit our shelves after new US trade deal?", In Focus) on the horrors of American food that may be heading our way. We can already see some of the dangers of adopting their fast-food eating habits in the worsening obesity crisis. Does Mrs May not realise that this wonderful trade deal she is embarking on will ruin our health, our farming and our environment? Perhaps her bedtime reading of Eric Schlosser's Fast Food Nation would be a wake-up call.
Jenny Hollaway
Stoke-sub-Hamdon
Somerset
I am a retired veterinary surgeon and worked in mixed practice in the UK for 40 years.
I agree that the use of "problematic" food additives should be avoided and that chicken and pig carcasses washed in hypochlorites and lactic acid are undesirable. The jury is still out on the pesticide issue and, in my opinion, the danger from GM foods is overrated.
However, the use of hormones and growth promoters could be acceptable. From personal experience in the 1970s and early 1980s, there was widespread, legal use of anabolic steroid implants in intensive beef production and oestrogens in the veal industry. As far as I am aware, there were no demonstrable deleterious side-effects in consumers in the UK. Traceability, identification and, hence, provenance of carcasses have improved markedly over the years and so it should be much easier to enforce stipulated withdrawal periods. The same would apply to antibiotic growth promoters, although I feel more uneasy about widespread, non-specific use of antibiotics in the industry.
The viruses that cause foot and mouth disease and swine fever are heat labile, thus properly supervised animal food production will get around this problem. Likewise, the BSE prion is destroyed by adequate heat during the production process. This is probably the biggest hot potato and although I understand that the disease is absent from the US, reintroduction of "mad cow disease" into the UK would be disastrous; perhaps we should dig our heels in here.
Mark Bennett
Billio
Brittany, France
There is much talk of global warming at the moment. Believe or don't believe, the world has to wake up soon to the damage being done to our planet. In truth, global warming is just one small component of global depletion. The practices that contribute to global warming cause enormous damage to the planet and in addressing these issues the effects of climate changes may be alleviated. What we eat is an issue. The overall degradation of land is a global problem.
Over the past 50 years, short-term economic gains by the industrialised meat and food industry have clouded the reality of poor and inefficient land management, failure to encompass sustainable practices and long-term destruction of top soil.
More regenerative and sustainably motivated farmers in this country must be worried that new trade deals with Trump's America could open the floodgates to massive amounts of meat and processed food.
This would include beef from cattle implanted with growth hormones, chlorine-washed chicken and unlabelled, genetically modified foods. More than ever, we need to support farmers' markets, farm shops, family butchers and supermarkets that care about the provenance of our food.
Kate Travers
Sutton
Cambridgeshire
Since you're here…
…we have a small favour to ask. More people are reading the Guardian than ever but far fewer are paying for it. And advertising revenues across the media are falling fast. So you can see why we need to ask for your help. The Guardian's independent, investigative journalism takes a lot of time, money and hard work to produce. But we do it because we believe our perspective matters – because it might well be your perspective, too.
If everyone who reads our reporting, who likes it, helps to pay for it, our future would be much more secure.
[Source:-The Guardian]