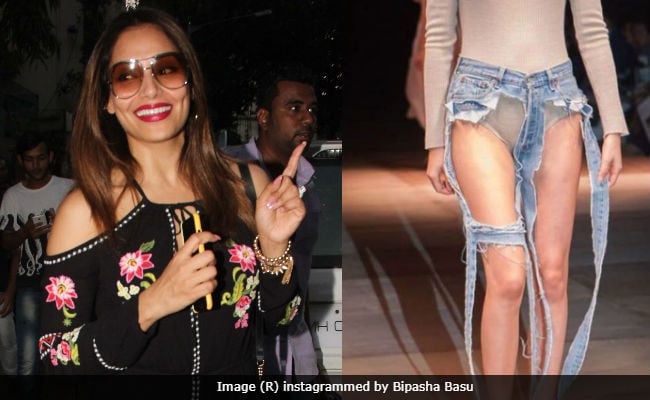 Bipasha Basu (L) in Mumbai. (Image courtesy (R): Bipasha)
NEW DELHI:
HIGHLIGHTS
Bipasha Basu is the co-curator of an e-commerce lifestyle brand
"Don't do this to denims, it's painful," says Bipasha Basu
Malaika Arora agrees with Bipasha
Actress Bipasha Basu stumbled upon an avant-garde fashion item (which FYI, has bemused the Internet for the past week) – the thong jeans, which debuted during last week's Amazon Fashion Week in Tokyo. The Thong Jeans is a part of Japanese designer Thibaut's Summer/Spring collection 2018 and will reportedly be available for purchase (reportedly priced at $425) from next year. But here's what Bipasha Basu, co-curator of e-commerce lifestyle brand The Label Life, thinks about Thibaut's latest piece: "Please we love jeans, don't do this to them…. it's painful. No like naked Jeans." She gave the denim a thumbs-down, like many more on the Internet.
Here's what Bipasha Basu posted on Instagram:
Bipasha's label life co-curator Malaika Arora posted to LOL emoticons in the comments section of Bipasha's post. Other Instagram users described this as "ghar ka pocha" and "pure madness."
Bipasha Basu was last seen in 2015 film Alone. She recently featured in headlines after starring in a condom commercial with her actor husband Karan Singh Grover. Bipasha and Karan's advertisement was criticised by the Internet, who advised her to 'wait till she gets a good film offer instead of making cheesy commercials.' But Bipasha handled the trolls with dignity and told mid-day: "The idea is to create awareness on the subject; it's the need of the hour. I am doing no wrong by endorsing condoms."
["Source-ndtv"]