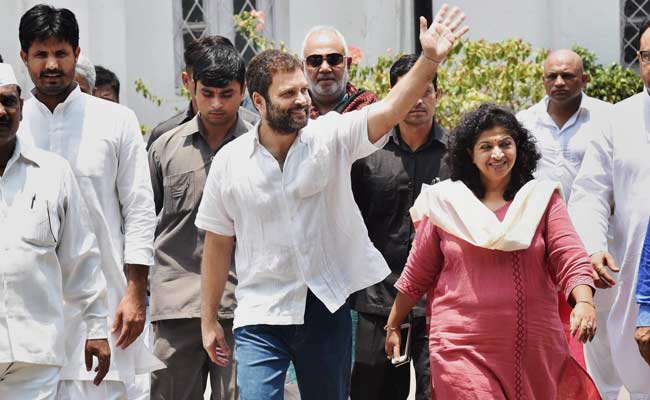 Bhopal:  A Madhya Pradesh BJP leader today announced a 'reward' of Rs. 1 lakh for providing information about Congress Vice President, who has left for a short visit abroad.
Madhya Pradesh BJP spokesperson Vijendra Singh Sisodia announced the reward by issuing a statement with a title "Rahul ka pata batao, ek lakh rupya pao" (Tell Rahul's address and get Rs. 1 lakh).
Mr Sisodia, who is also the Chairman of the Madhya Pradesh Urja Vikas Nigam, said "I will give Rs. 1 lakh from my own pocket to anyone who finds out the address of Rahul Gandhi who has gone abroad."
"Few months' back also Rahul Gandhi went abroad and that time Congressmen were saying that he has gone for a brainstorming session and will come back from there energised. However, later it turned out that Rahul had gone to Thailand, Malaysia, Bangkok and Singapore," the BJP leader said.
"Now Congressmen believe that his energy levels are running low and hence he went (abroad) again to get charged. Where he has gone? Whom did he meet? How he gets charged? How many days he remains charged? The country wants to know it," he said.
"I have announced that if any Congressmen or any citizen of the country provides the address of Rahul Gandhi, I will personally give him Rs. one lakh award," he said.
However, Congress spokesperson Ravi Saxena, in a sharp retort said, "BJP leaders are suffering with Rahul phobia."
"If Sisodia is so keen to know about Rahul's address then he should know that he is an SPG protectee and it is fully aware of the movements of guarded people. He should have paid Rs. one lakh to Union Home Minister Rajnath Singh to know his (Rahul's) whereabouts," Mr Saxena said.
A day after his 46th birthday, Mr Gandhi on Monday had announced that he is going abroad on a short visit for "few days", but did not specify the country he is heading for.
The Congress Vice President's 56-day mysterious sabbatical last year had created much controversy in political circles with the ruling BJP making his absence in the midst of Budget session of Parliament an issue.
[Source  NDTV]