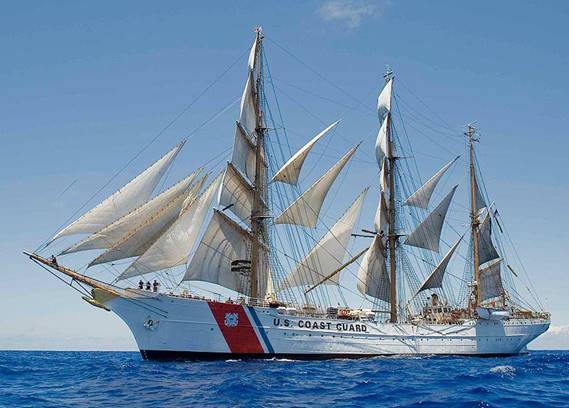 The U.S. Coast Guard Tall Ship Eagle will kick off its 2018 summer patrol of cadet training and community outreach by making its first port stop at St. Thomas, U.S. Virgin Islands. Called 'America's Tall Ship,' this three-masted barque is the largest tall ship flying the American flag and the only active square-rigger in U.S. government service.
EAGLE will arrive at St. Thomas at the West Indian Company Limited (WICO) dock on Friday, May 25, and will depart on Monday, May 28. While in the territory, Eagle will be open for public tours, including special visits for Virgin Islands students to learn about educational and career opportunities at the U.S. Coast Guard Academy and in the U.S. Coast Guard. Additionally, cadets aboard Eagle will take part in several community service events while in port.
"I am extremely excited and proud for the CGC Eagle to visit St. Thomas. The Eagle is homeported out of New London, Conn., which is where the Coast Guard Academy is located. As a Coast Guard Academy graduate, I have had the honor to sail onboard the EAGLE and highly encourage everyone to take some time and enjoy a tour of the ship while she is in port," said Coast Guard Lt. Comdr. Elizabeth Newton of the U.S. Coast Guard's Marine Safety Detachment on St. Thomas.
Public Tours of Eagle are free and will take place:
Friday, May 25: 1 p.m. to 3:30 p.m.
Saturday, May 26: 10 a.m. to 7 p.m.
Sunday, May 27: 10 a.m. to 7 p.m.
Advertising (skip)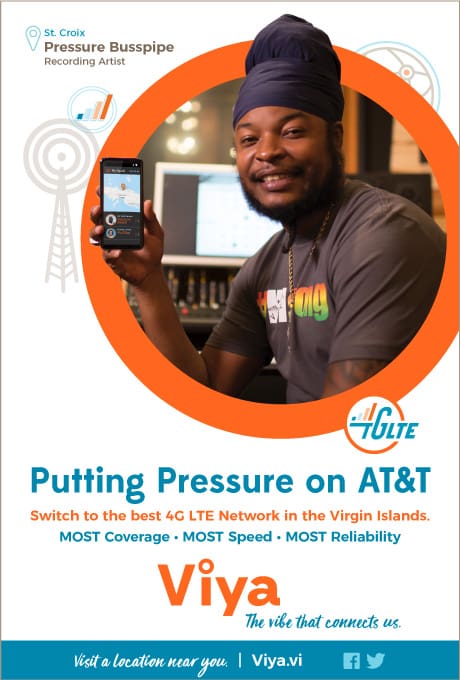 During her 2018 summer patrol, Eagle will also enjoy port calls at other Caribbean destinations: Barbados (June 1-4); Santo Domingo, Dominican Republic (June 9-12); San Juan, Puerto Rico (June 15-20); Roatan, Honduras (June 29-July 2); Cartagena, Colombia (July 9-12); and Curacao (July 15-18).
About Eagle: The 295-foot long USCGC Eagle is the seventh U.S. Coast Guard cutter to bear this name as part of a proud tradition that dates to an original Revenue Cutter built in 1792. Congress established the United States Revenue Cutter Service in 1790 on the recommendation of then U.S. Secretary of the Treasury, who was Caribbean native and former St. Croix resident Alexander Hamilton. This service became the U.S. Coast Guard in 1915, which currently operates under the Department of Homeland Security.
The present EAGLE was built in 1936 by the Blohm and Voss Shipyard in Hamburg, Germany, and originally commissioned as Horst Wessel in 1936 to train cadets for the German Navy. The U.S. was awarded the ship as a war reparation after World War II, and it has since been used to train U.S. Coast Guard cadets and officer candidates. Approximately 1,000 men and women attend the Academy each year, all of whom will sail at one time or another on Eagle as an incredible seamanship and leadership development experience.
A permanent crew of eight officers and 50 enlisted personnel maintain the ship year-round. They provide the strong base of knowledge and seamanship for up to 150 cadets or officer candidates that embark for training.
Many Virgin Islanders have sailed on EAGLE as part of their officer training.
Alvin Dalmida Jr., a member of the Virgin Islands Centennial Foundation (VICF) and a Coast Guard 25-year veteran, said, "Since 1998, we have been working with the Coast Guard Admissions Office and Coast Guard Sector San Juan units in the Virgin Islands to successfully identify and recruit talented students from the V.I. that have served or are currently serving. In 2017, we invited the Eagle to participate in the V.I. Centennial events, but it was in the midst of a service life-extension project and was dry docked (with gaping holes in the hull).
However, Captain Matt Meilstrup assured that the crew would have preferred to be moored at St. Thomas.  We're grateful that they are now scheduled to deliver, in person, their personal well wishes during the hurricane recovery efforts and recognize the resiliency and pride of Virgin Islanders and their rich maritime heritage during the post centennial year."
["Source-stthomassource"]