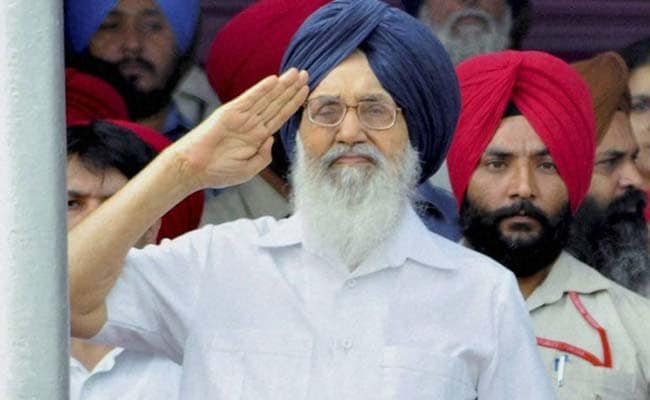 Amritsar: 
Highlights
Opposition defaming Punjabis by labelling them drug addicts, says CM
They want to portray wrong picture of Punjab to India, insists Mr Badal
Government cracking down on drug peddlers, opening rehab centres, says CM
Slamming the opposition for "defaming" hard working people of Punjab by labelling them as "drug addicts", Punjab Chief Minister Parkash Singh Badal on Tuesday claimed the magnitude of the drug problem in the state was "much less than in many other states of the country".
Forces "inimical to the state" were hell bent on branding the people of the state as "drug addicts" only to portray a "wrong picture" of the state before the country, he said on the sidelines of a Sangat Darshan programme in Rajasansi Assembly segment in Amritsar.
The Chief Minister said since time immemorial, Punjab had been the "sword arm" and "food bowl" of the country but ignoring this huge contribution of 'Punjabis', a malicious propaganda has been unleashed by some political parties to label these "patriotic sons of soil as drug addicts".
The SAD-BJP government in Punjab has already tightened the noose around drug peddlers by putting them behind the bars and opening a network of de-addiction and rehabilitation centres in the state, he informed.
Mr Badal said he has urged Union Home Minister Rajnath Singh to treat the Indo-Pak border in the state on par with the border in Jammu and Kashmir to enhance vigil on it to check cross-border infiltration.
He said the terror attacks in Pathankot and Dinanagar (Gurdaspur) have shown that Punjab was on the radar of anti-national forces.
The Chief Minister said the state government was in the process of establishing a "second line of defence" along the border, but the Centre must sanction more funds to modernise the police force in the state.
Mr Badal described the AAP as a "water bubble" which would burst soon.
Regarding an alleged incident of sacrilege in Malerkotla recently, the Chief Minister said some forces, "envious" of Punjab, were repeatedly making attempts to disturb the hard-earned communal harmony, peace and brotherhood in the state.
However, he said the government was committed to crush the ugly head of these forces, adding that the arrests in the incident show the state government was committed to the cause.
Slamming the Congress for its "anti-Punjab" stance, the Chief Minister said the party was "inimical" to the state from day one as it "denied" Punjab of its legitimate territorial rights in terms of capital and share in river waters.
Mr Badal said the state government was making concerted efforts to make the youth aware of the glorious history of Punjab, adding that for the first time, unprecedented steps have been taken to perpetuate the cultural heritage of the state by constructing world class memorials at an expense of more than Rs. 1,000 crore.
[Source  NDTV]