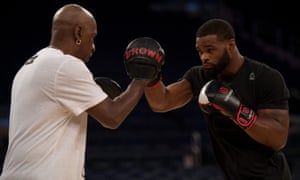 UFC welterweight champion Tyron Woodley is an African American athlete in the modern age of sports activism. He does not take this responsibility lightly. He grew up in Ferguson, Missouri, and that fact alone gives him a voice on racial matters for it was his town, his neighborhood, his very street where Michael Brown was shot and his body lay for hours baking in the summer sun. As a young black man in Ferguson he was racially profiled, pulled over needlessly by police and once thrown in a paddy wagon with a group of friends because he says: "We looked like we were up to something."
He wrestled at the University of Missouri where last 8 November the football team went on strike in support of a black students and forced the school's president to resign. He is proud of what the football players did at his alma mater, but more importantly, he sees the power their protest gives men like himself – African Americans with fame, money and success – to speak about topics like inequality. He believes they need to use it regardless of consequences.
In September he listened to Donald Trump rambling on about Ferguson as if it was some flaming ghetto and not the racially mixed suburban St Louis town he knows. This angered him and so he said: "He got to keep Ferguson out of his mouth so I can keep my fist out of his mouth." His comments were dutifully reported by TMZ who ran a picture of him with a clenched fist and a headline that said he "threatens" Trump. His words made headlines and a few days later, a crowd of mostly white fans booed him in Madison Square Garden's theater during a press conference for
"All of a sudden (the coaches said): 'Oooh, we got to get a picture of you on this wall," Woodley says. "It was kind of…" He paused again for moment and sighed. "But it is what it is and it's about the athletes and thats why I'm there but it was really weird that people couldn't wrap their minds around the idea that these things can happen."
He drove around the campus that day looking at all the giant new fraternity and sorority houses and couldn't help that each mansion was only for predominantly white fraternities and sororities. "How many black homes are there?" he wondered. Where were all the big homes from the African American students? He glanced around and realized that even after what happened last fall and the racial awakening of his old college, Missouri still had a long way to go.
Sitting in an empty radio studio in late September, a few days after the Trump comments, about to promote the second biggest fight in the UFC's biggest card ever, Woodley is probably at the apex of his career. Never will he have a larger voice in sports. Never may minority athletes have a more powerful voice than they do today. As a child of Ferguson he has the platform, he can be a kind of modern-day Ali. Boos be damned. If Donald Trump is going to fire off a shot at Ferguson well by God he's going to talk about putting his fist through the man's teeth. That's not a right, its a responsibility.
"He needs to talk about (race)," Michael Johnson, another African American UFC fighter will later say, unaware of Woodley's words about Trump. "He's a champion and his voice needs to be heard. It's very important to speak up with the things that are happening."
In the studio Woodley laughs.
"I don't read social media. Is (the Trump comment) getting buzz?" he asks, the idea Trump could actually be president probably the farthest thing from his mind.
Yes, he is told, his line about putting a fist in Trump's mouth made plenty of headlines.
He chuckles.
"Well hopefully it made it to him," he says.
No need to hold back now.
[Source:-The Guardian]