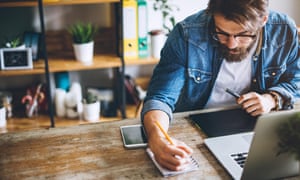 Twice a week we publish problems that will feature in a forthcoming Dear Jeremyadvice column in the Saturday Guardian so that readers can offer their own advice and suggestions. We then print the best of your comments alongside Jeremy's own insights.
I've just turned 30, and I can't decide what to do with my career. I studied English at Cambridge hoping to go into academia, but couldn't afford further study. I found work as a technical writer, then a junior business analyst, then a UX (user experience) web designer and finally a web developer. The last role has been my vocation for a good four years and I've done well – I have a great salary and enjoy recognition from my peers. I have a reputation in my field and a technical blog that has done well too. But over the past 18 months I've become convinced this is absolutely the wrong career.
I find programming frustrating, repetitive and under-stimulating. I want to do something that's more verbal and lets me exercise the skills I used at university. But how?
Everyone tells me that academia is miserable, though I would love to research, think, write and teach. I would also love to write and produce content – or perhaps even journalism – but I realise that's a notoriously difficult field to survive in.
I am interested in law and would be willing to put the study in, but I am fearful of investing years in something I could fail at. There might be interesting roles in the civil service, but I wonder if I might find the hierarchy stifling.
I like to work alone and take total responsibility. I am a good researcher and can fight my corner in a debate (I am probably the sort of person who values correctness over consensus). I enjoy public speaking and can write competently (though I do need more practice). These are my good attributes. My bad ones are that I crave stimulation and don't like sharing work. I am also a little shy and not outgoing.
How can I break out of my rut? I am paralysed by fear of making the wrong choice, but equally scared that the clock is ticking. I have enough savings to take some time off, but I'm not clear how a career break would help.
[Source"timesofindia"]