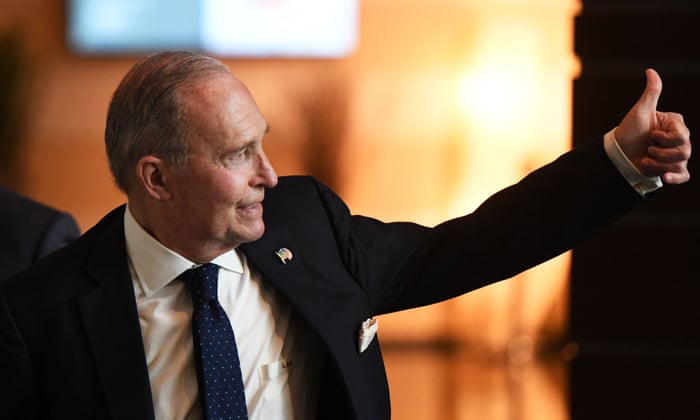 White House economic adviser Larry Kudlow gestures as he walks through a hotel lobby in Beijing today Photograph: Greg Baker/AFP/Getty Images
European markets end lower
With Wall Street still suffering on concerns about the prospect of a trade war between the US and China, European markets have ended the day lower.
Talks between Chinese and US representatives began in the first of two days of meetings, but both sides have been lowering expectations that there will be a positive outcome. So investors have been shying away from shares, with the final scores in Europe showing:
The FTSE 100 finished down 40.51 points or 0.54% at 7502.69
Germany's Dax dropped 0.88% to 12,690.15
France's Cac closed 0.5% lower at 5501.66
Italy's FTSE MIB fell 0.83% to 24,064.46
Spain's Ibex ended 0.5% lower at 10,038.8
In Greece, the Athens market lost 2.18% to 839.34
On Wall Street the Dow Jones Industrial Average is currently down 280 points or 1.17%.
On that note, it's time to close for the day. Thanks for all your comments, and we'll be back tomorrow.
On the market fall, Joshua Mahony at IG says:
Global stocks are on the slide in the wake of a weak US open today, with trade fears and a strengthening dollar weighing on sentiment.

…Continued fears over the pathway of trade negotiations with China are sure to be playing into investor fears, and it is certainly a worry that we are seeing such unconvincing trade in the US despite a largely encouraging earnings season.

[President] Trump will be boosted by the new of a massive narrowing of the US trade deficit, with the President likely to go reinvigorated into negotiations with the likes of China. With the head of the Brazilian steel association admitting that the industry will simply have to go along with US quotas, the bigger hurdles of China and the EU represent significantly bigger hurdles to overcome for Mr Trump. With US exports now standing at the highest level since records began, there is no doubt that the US economic picture is improving and that is being reflected in a stronger dollar.
Since you're here … we have a small favour to ask. More people are reading the Guardian than ever but advertising revenues across the media are falling fast. And unlike many news organisations, we haven't put up a paywall – we want to keep our journalism as open as we can. So you can see why we need to ask for your help. The Guardian's independent, investigative journalism takes a lot of time, money and hard work to produce. But we do it because we believe our perspective matters – because it might well be your perspective, too.
If everyone who reads our reporting, who likes it, helps fund it, our future would be much more secure. For as little as $1, you can support the Guardian – and it only takes a minute. Make a contribution. – Guardian HQ
15:33
The latest US monthly jobs figures are out on Friday, and there could be a recovery from the weak (103,000) number seen in March:
Markets continue to suffer on worries about the potential for a trade war between the US and China. Connor Campbell, financial analyst at Spreadex, says:
Despite a lack of news surrounding the ongoing takes between the US and China, the various aggressions reported last night – including news that China has stopped by soybeans from the US, with the latter potentially set to impose restrictions on certain Chinese telecommunication companies selling equipment in America – have reignited fears of a trade war.

It's clear that investors aren't confident about the outcome of the day's delegation get-together. The Dow Jones plunged more than 250 points after the bell, diving below 23700 for the first time in a month. Granted the Dow is also dealing with a fairly hawkish Fed statement from Wednesday night, one that kept up the dollar's hopes of 3 (or even 4) more rate hikes in 2018.

With little else to go on, the European indices took their cue from the US losses. The CAC slipped 0.3%, while the DAX dropped 0.6%, the latter abandoning the 12800, 3 month highs struck on Wednesday. As for the FTSE, the UK index shed 50 points, shying away from 7550 to return to 7500 for the umpteenth time this week.

Mixed signals from the US service sector

Two surveys of the US service sector have come to different conclusions about the state of this part of the economy.

The ISM non-manufacturing PMI dropped from 58.8 in March to 56.8 in April, below expectations of a level of 58.1. The employment index dropped from 56.6 to 53.6, the lowest since April last year.

But earlier the Markit service sector PMI rose from 54 in March to 54.6 in April, slightly better than the initial reading of 54.4.

China can withstand a trade war longer than the US, says Wendy Cutler, Asia Society Policy Institute vice president and former acting deputy U.S. trade representative. She was speaking to CNBC:

Wall Street opens lower

Worries about trade tensions as the US and Chinese delegations meet in the wake of Trump's tariffs have seen US markets open lower.

The Dow Jones Industrial Average is down 170 points or 0.7% while the S&P 500 opened down 0.29% and the Nasdaq Composite off 0.51%.

Among the fallers is Tesla, down 7.5% after the bizarre post-results analysts call held by Elon Musk.

Could Donald Trump's actions on trade and tariffs see a repeat of the 1930s slump? A group of experts certainty think it could happen:

Over a thousand economists have written to Donald Trump warning his "economic protectionism" and tough rhetoric on trade threatens to repeat the mistakes the US made in the 1930s, mistakes that plunged the world into the Great Depression.

The 1,414 economists, including 14 Nobel prize winners, sent the letter on Thursday amid an escalating row over trade between the US and the European Union. Trump has imposed tariffs on steel and aluminium imports but has granted temporary reprieves to the EU, Australia and other countries.

"In 1930, 1,028 economists urged Congress to reject the protectionist Smoot-Hawley Tariff Act," the authors write, citing a trade act that many economists argue was one of the triggers for the Great Depression.

"Today, Americans face a host of new protectionist activity, including threats to withdraw from trade agreements, misguided calls for new tariffs in response to trade imbalances, and the imposition of tariffs on washing machines, solar components, and even steel and aluminum used by US manufacturers.

"Congress did not take economists' advice in 1930, and Americans across the country paid the price. The undersigned economists and teachers of economics strongly urge you not to repeat that mistake. Much has changed since 1930 – for example, trade is now significantly more important to our economy – but the fundamental economic principles as explained at the time have not."

The full story is here:

US trade gap narrows but China deficit up so far this year

With immaculate timing, as the US and Chinese delegations meet, the Commerce Department has released the latest international trade figures.

Overall the trade gap narrowed in March from $57.7bn in the previous month to $48.9bn. This was better than the expected deficit of $50bn, helped by exports increasing to a record high following a surge in deliveries of commercial aircraft and, yes, soybeans.

 

Photograph: US Census Bureau

As for the deficit with China, the March figure fell from $29.26bn to $25.88bn.

BUT: the year to date figure for the trade gap with China is up sharply, from $78.8bn to $91bn.

View image on Twitter

By sending so many senior officials to China, the Trump administration may actually have lowered the chances of a breakthrough.

That's because the delegation don't really agree with each other about trade, making it harder to reach an agreement with Beijing.

For example, commerce secretary Wilbur Ross has blamed 'evil practices' by China for the trade gap with America, and vocally backed Donald Trump's tariffs.

 

Photograph: Bloomberg TV

But Larry Kudlow, the newish head of Trump's economic council, has previously warned that tariffs are effectively tax rises and will hurt US companies (this was before he joined the White House).

 

Photograph: Bloomberg TV

Such differences of opinion won't make negotiations with China run any smooth.

As Maggie Gage, head of Washington Research at Credit Suisse, put it on Bloomberg TV:

One of the key hurdles that will determine success versus non-success at these talks is whether the US team can all stay on message together.

Facebook

Twitter

Google plus

Today's trade talks come a month after the US and China both ratcheted up the tensions, by imposing tariffs on $50bn of each other's goods.

The White House announced a list of 1,333 Chinese imports to be subject to punitive tariffs of 25%; China retaliated with a list of 100+ American products, including soya beans, cars and aircraft.

So what is America looking to achieve at today's talks?

On the trade gap, the Trump administration want China to reduce its trade surplus with the US by around $100bn (it's $375bn today). Unless US consumers start consuming less, that means opening up more Chinese markets to American imports.

On intellectual property, the US Trade Representative's Office claims that American firms are forced to hand over key technology secrets in return for access to Chinese markets — something Beijing denies.

There's also the currency issue – Donald Trump's bugbear that Beijing has been unfairly weakening the yuan to help Chinese firm sell goods abroad. So far, America has resisted labelling China a 'currency manipulator' (something which would trigger fresh measures). But it's on the table, if negotiations get nowhere….

Facebook

Twitter

Google plus

12:45

The EC has predicted that Britain and Italy will share the wooden spoon in the 2018 growth race, while Ireland will power ahead:

Latest 2018 growth forecast by the European Commission:

5.7%
4.5%
4.3%,
4.0%
4.0%
3.8%
3.7%
3.4%
3.0%
2.9%
2.8%
2.6%
2.5%
2.3%
2.3%
2.0%
1.9%
1.8%
1.5%
1.5% #ECForecast

1,181

1,716 people are talking about this

Twitter Ads info and privacy

Bonus mark to anyone who spots the mistake with the Irish flag…..

Facebook

Twitter

Google plus

Rather awkwardly for our purposes, there appears to be a news blackout on the US-China trade talks!

Bloomberg says:

China's largest news outlets have been ordered to refrain from reporting any material beyond official press releases related to trade talks in Beijing with the U.S., according to people familiar with the matter.

The Communist Party's propaganda department has told news websites to strictly use statements released by the official Xinhua News Agency, without any extra interpretation, according to the people, who asked not to be named as they're not authorized to speak on the matter.

Facebook

Twitter

Google plus

11:38

Chinese foreign ministry spokeswomen Hua Chunying says Beijing hopes to make progress with America – but only if there is mutual respect.

Hua told reporters that:

"The outcome should be mutually beneficial and win-win."

The official Xinhua news agency, usually a good gauge of the Chinese government's views, has also taken a firm line by warning that China could cope with a trade war.

In an editorial, it says:

"China will inevitably suffer losses, but China has the political advantage of a centralised and unified leadership and support of a massive domestic market."

Facebook

Twitter

Google plus

10:43

A former trade advisor to president Obama has warned that Trump's delegation probably won't come back from Beijing with a big deal.

Michael Camunez, CEO of consultancy Monarch Global Strategies, says (via CNN):

"I don't expect any grand bargains being struck….There is no clear strategy that can be discerned."

Facebook

Twitter

Google plus

EC: We must avoid a trade war

The European Commission has fired a warning towards the US government not to plunge the world into a trade war.

In its latest economic assessment, just released, the EC warns that there are "increased risks on the horizon".

It singles out the threat of trade protectionism, calling it an "unambiguously negative risk" to the global economic outlook

Pierre Moscovici, commissioner for Economic and Financial Affairs, warns that a trade war could derail Europe's recovery:

Europe continues to enjoy robust growth, which has helped drive unemployment to a ten-year low. Investment is rising and public finances are improving, with the deficit in the euro area set to drop to just 0.7% of GDP this year.

The biggest risk to this rosy outlook is protectionism, which must not become the new normal: that would only hurt those of our citizens we most need to protect."

["Source-theguardian"]