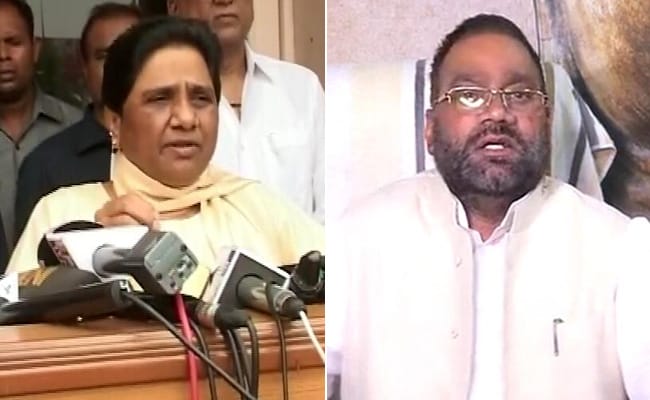 Lucknow: 
Highlights
Mayawati calls former BSP leader Swami Prasad Maurya a 'traitor'
He quit BSP after accusing her of selling party tickets for 2017's polls
He met BJP leaders on Friday amidst speculation he may join the party
BSP chief Mayawati today attacked former party leader Swami Prasad Maurya, calling him a "traitor" at a meeting of party legislator this morning to decide on new the Leader of Opposition in UP Assembly.
Former Bahujan Samaj Party leader Sawmi Prasad Maurya, who held the post of Leader of Opposition in UP assembly, was replaced by Gaya Charan Dinkar.
Mr Maurya quit the party a few days ago accusing the BSP chief of selling party tickets for next year's assembly polls.
"The people and the party will never forgive him. People have been calling to say that it's great that a traitor has quit. We will never forgive him or give him a re-entry into the party," Ms Mayawati told reporters.
Minutes after BSP chief's attack, Mr Maurya hit back saying, "She is so scared of me that she personally called and requested even expelled MLA's to come and be part of her meeting. This is my effect, she has had to do all this."
Sticking to his accusation, the former BSP leader said, "I reiterate that the BSP has become a ticket-selling factory."
He also said that in July he would call a meeting in Lucknow which is likely to be attended by at least 25 BSP legislators who are unhappy with Ms Mayawati.
Mr Maurya also met with senior BJP leaders in Delhi on Friday amidst speculation that he could join the party.
[Source  NDTV]