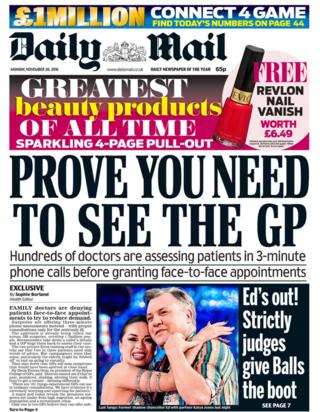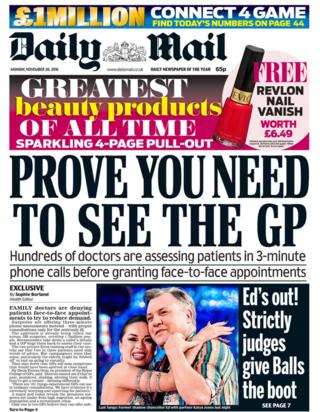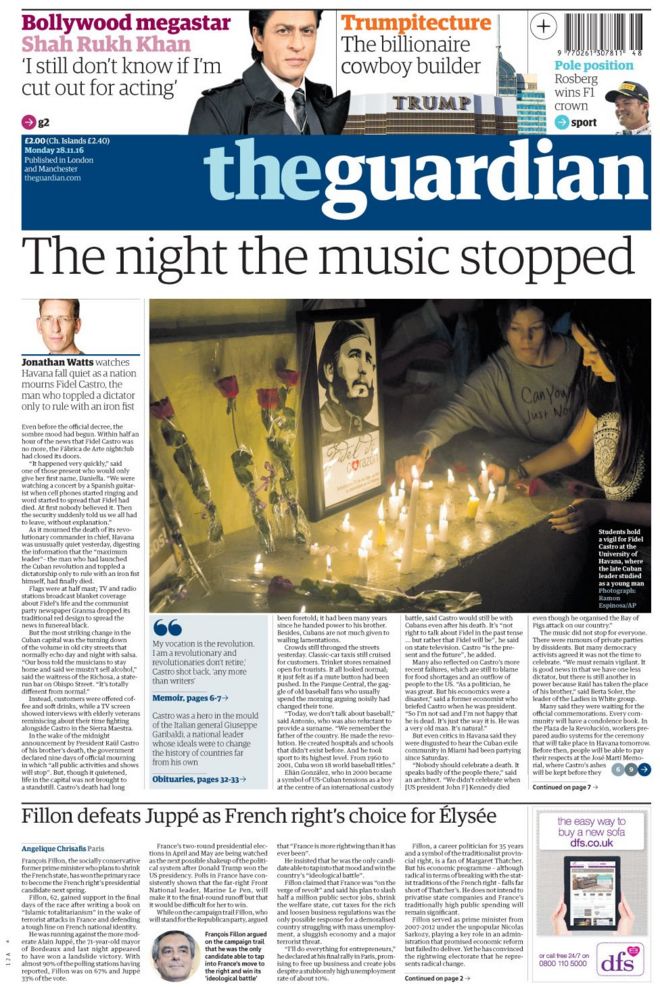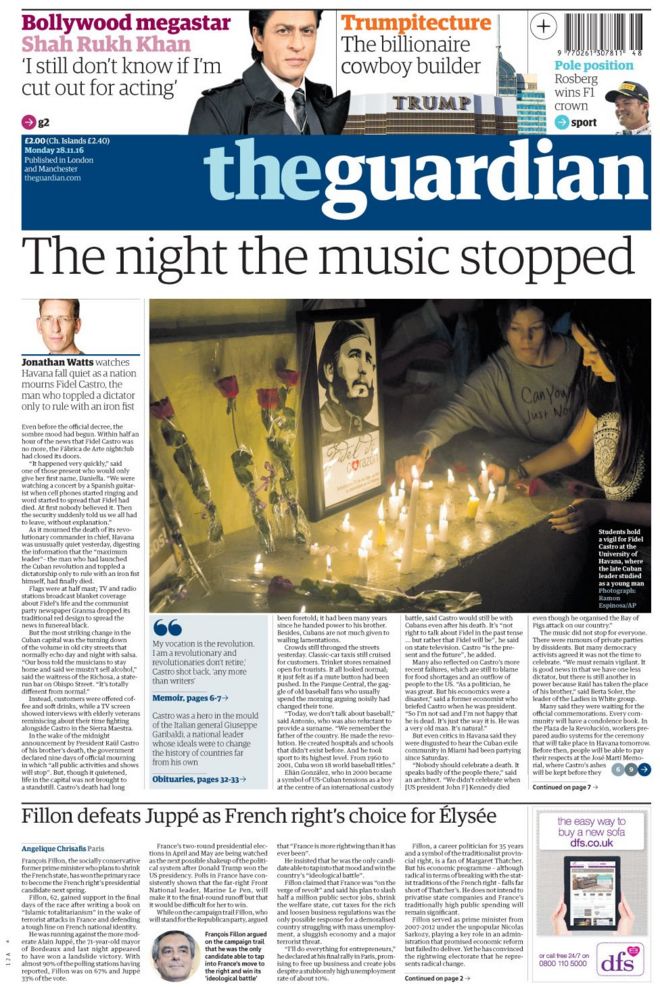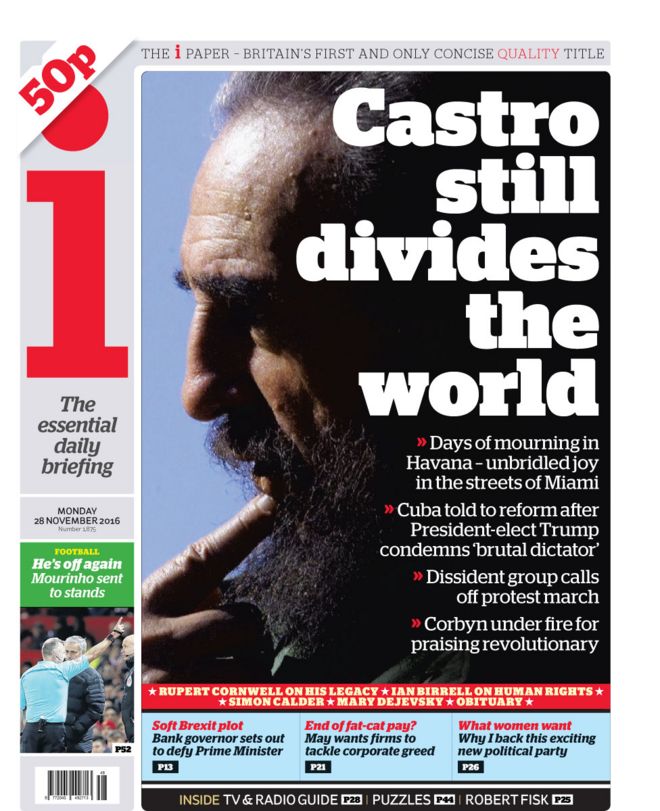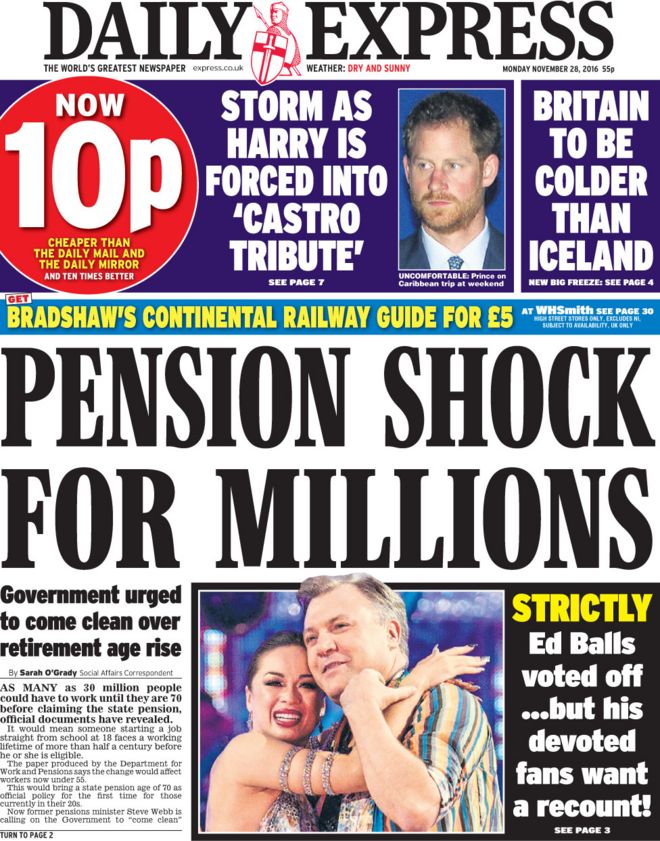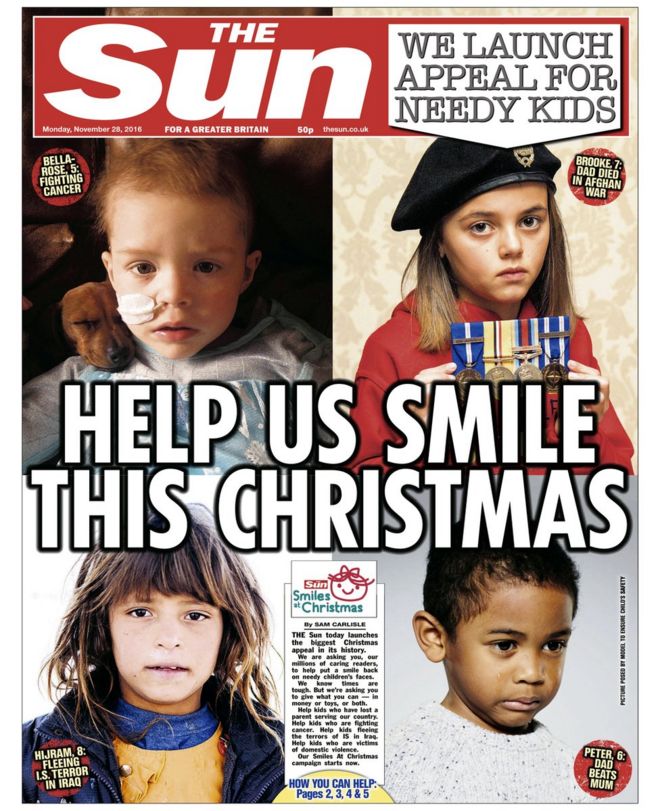 A privately-run scheme means doctors are "denying patients face-to-face appointments", says the front page of the Daily Mail.
Instead, surgeries are carrying out three-minute assessments on the phone, before deciding whether an appointment is needed.
The Mail says the "telephone triage" is run by two companies – who have signed up 180 surgeries with 1.7m patients.
The firms say two-thirds of callers don't, in fact, need appointments.
But the pressure group Patient Concern fears people might be "fobbed off".
And the Mail's editorial says it's time for doctors to "think again".
"With many signs of illness detectable only by sight – and patients often reluctant to come straight to the point about embarrassing problems – how can it be safe to refuse appointments on the basis of a brief phone call?" it asks.
---
Last dance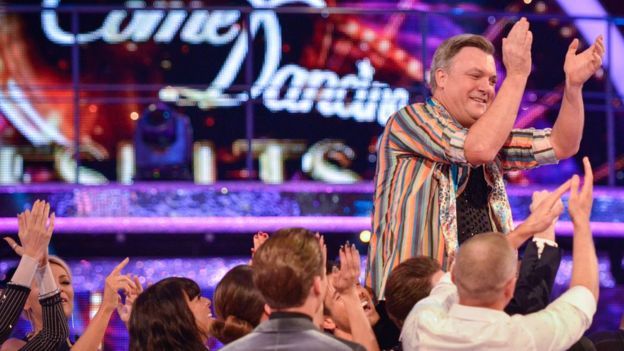 When Ed Balls lost his seat in parliament in May, the papers ran his political obituary.
Seven months on, they're running his Strictly obituary – and it's far kinder.
"The transformation from political pariah to the nation's top dad is proof…that we will always take a have-a-go-hero to our hearts, even if we're not so keen on his fiscal stimulus policy," writes Judith Woods in the Daily Telegraph.
For Lucy Bannerman in the Times, Mr Balls is a symbol of 2016.
"Few sights have better summed up the upheavals of this year," she writes.
"Ed Balls in Mad Professor goggles thrusting to Gangnam Style — and people actually liking it."
According to the Sun's editorial, the "lesson is clear to any MPs feeling unloved…pop on the sequins, start jiving – oh, and, first of all lose your seat".
The Guardian's Mark Lawson ponders what Mr Balls might do next: parliament or primetime?
"The Apprentice has just become the first TV franchise to have one of its alumni elected US president," writes Lawson.
"Balls is surely too much of a politician not to have wondered if Strictly can do for him something similar…
"Further broadcasting opportunities seem assured – although he will need to be very strict with suggested titles punning on the surname."
---
'Questions to answer'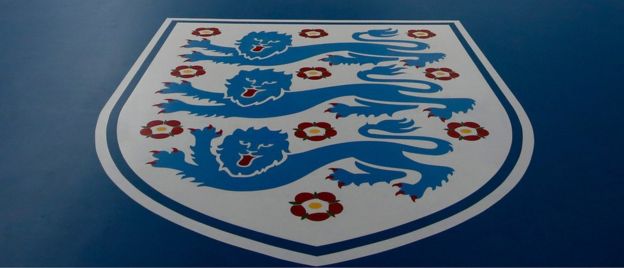 The Daily Mirror is the only paper to lead on the football abuse scandal. It says the FA has "10 questions to answer".
The questions include: "Did Crewe Alexandra know about [paedophile coach] Barry Bennell in the late 80s before he was arrested in 1994?" and "Will the FA investigate allegations that victims' silence was bought?"
On Sunday, the FA announced an "internal review" into the scandal. But the Times' chief football writer Henry Winter says that's not good enough.
"An internal review will not combat a crisis like this," he writes.
"Crisis is an overused word in football… but this really is a crisis. It stirs horror and fear. It tarnishes a sport with much to glow and crow about."
The Daily Telegraph's cartoonist Christian Adams re-imagines the FA's badge. One lion sees no evil, the second hears no evil, and the third speaks no evil.
But the Times columnist Matthew Syed says it's important to be "outraged but rational".
"It is at times like these that it is worth stating, loudly and emphatically, that the vast majority of coaches do brilliant work," he writes.
"They inspire our children. They enable them to take delight in these invented games… they are not just coaches, but mentors."
---
'IS plots uncovered'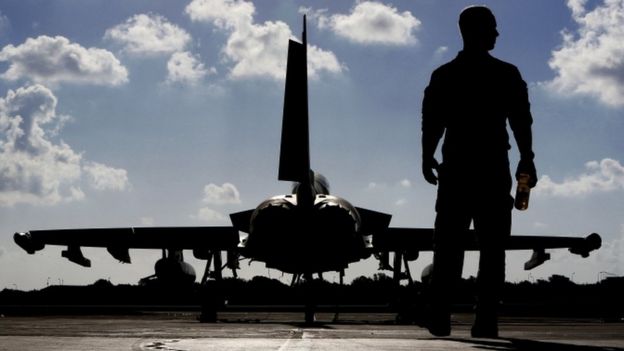 At least four papers – the Mail, Telegraph, Times, and Sun – have sent correspondents to a British outpost at Al Assad Air Base in Iraq.
And they all report that documents "revealing scores of IS terror plots targeting the UK and Europe" have been found in towns liberated from Islamic State fighters.
According to the Mail, "hundreds of analysts – including from Britain's security services – are being flown to a top secret location to wade through papers, hard drives and mobile phones".
The Times reports that "one suspected plot has already been foiled after four friends, arrested in France last week, were accused of planning to launch an attack in the country as early as this week".
The Sun's headline says "IS terrorists have jihad it".