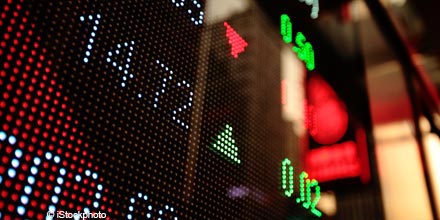 US stocks pulled back from their record highs on Thursday, led by technology and transportation shares, overshadowing another big day for telecoms.
The Dow Jones Industrial Average added 21 points, or 0.1%, to 21,732, the S&P 500 lost nine points, or 0.38%, to 2,469 and the Nasdaq Composite dropped 58 points, or 0.9%, 6,365.
The Dow Jones Transport Average, often looked at as a gauge of the economy's health, was down 3.2%, dragged lower after a disappointing outlook from package delivery company United Parcel Service. UPS rival FedEx also fell.
In the technology sector, Apple, Microsoft and other technology stocks suddenly changed direction in the afternoon. After being up as much as 0.6% in morning trading, tech stocks in the S&P 500 finished the day down 0.8%. Facebook shares, however, gained 3.3% after the social media company's results.
Twitter shares fell 13.8% after the social media platform disappointed investors with stagnant monthly active user growth. Software company CA had the biggest loss in the S&P 500 and fell 10.2%. F5 Networks was another tech stock that helped lead the S&P 500 lower.
Health care stocks were also weak, and drugmaker AstraZenecasank after it said its lung cancer drug Imfinzi did not reach its goals in a clinical trial. US-listed shares of AstraZeneca lost 14.9%.
On the opposite side were telecom stocks, which rallied for a second straight day. Verizon Communications had its best day in more than eight years after it reported more revenue than analysts expected. Verizon jumped 7.7%.
In Asia, shares declined on Friday in morning trade after the dollar firmed overnight and as investors looked ahead to more corporate earnings due during the session.
Japan's Nikkei 225 slid 0.42% and South Korea's benchmark Kospi index declined 1.08%.
In Australia, the S&P/ASX 200 declined 1.21%. Greater China markets trended lower. Hong Kong's Hang Seng Index was lower by 0.54%. On the mainland, the Shanghai Composite slipped 0.5% and the Shenzhen Composite was off by just 0.13%.
Source:-citywire