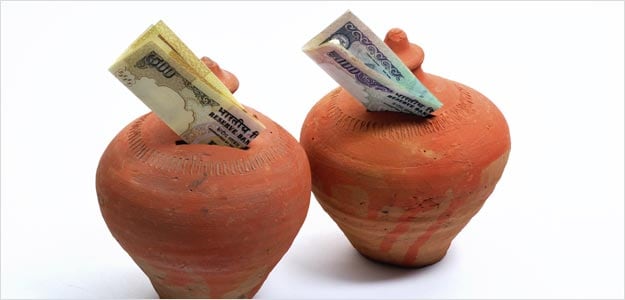 In what could be a big setback to the common man, interest rate on one of the most popular small saving schemes – public provident fund (PPF) – could fall below 8 per cent, a level never seen since 1979.
The interest rates on small saving schemes such as PPF are tied to government debt securities of corresponding maturities. The yields on 10-year benchmark government securities are hovering around three-year low of 7.30 per cent. Yield shows the return on a debt paper.
As yields have gone down, the small savings rates should also logically go down, say experts.
According to the new small savings scheme rules, which came into effect from April 1, interest rates will be revised every quarter, based on the previous 3-month yields on benchmark government securities or bonds with a small mark-up. Earlier, interest rates were set for the full year.
"The PPF has a mark-up of 0.25 per cent above the 3-month yield of government securities of similar maturity. If the government follows this formula, the PPF and other small savings schemes will see a rate cut," said Anil Rego, CEO and founder at Right Horizons.
However, the government when fixing the PPF rate for the July-September quarter kept the PPF rate unchanged despite a softening in the yield in bonds.
"Though, there is a defined formula for interest rates of PPF and other small savings rates linked to the government securities rates, the government did not implement the same for the quarter July-Sept 2016. Otherwise the interest rates would have moved below 8 per cent even for the July-September quarter," said Manoj Nagpal, CEO of wealth management firm Outlook Asia Capital.
"There is no logical reason why PPF interest rates should remain above 8 per cent on a tax-free basis whereas bank fixed deposit rates – which are taxable – have moved significantly below 8 per cent.," he added.
Experts say that the yields are likely to remain soft in the wake of good monsoon which will take away some pressure off inflation and the possibility of further stimulus measures from global central banks.
For the April quarter, the government had cut the interest rate on small savings schemes sharply, following a slide in benchmark government securities rate. As a result, interest rate on PPF was set sharply lower at 8.1 per cent for the period April 1 to June 30, down from 8.7 per cent.
However, experts believe that even if the rate cut happens for the October to December quarter, PPF will remain an excellent investment choice.
"PPF remains an attractive instrument due to the EEE (exempt-exempt-exempt) tax status and even if the rates were cut, it will still continue to provide positive real interest rates above inflation," says Mr Nagpal of Outlook Asia Capital.
[Source  NDTV]