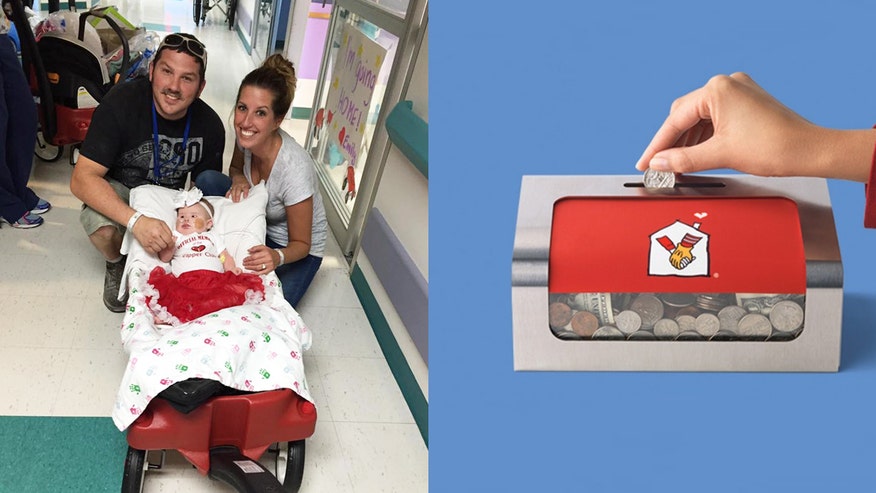 When you go to McDonald's, you've probably noticed the small donation boxes near each register.
Perhaps you've donated, maybe not.  But do you know where those pennies and dimes really end up?
For one baby, the change donated to the Ronald McDonald House Charities(RMHC) has given her a new lease on life.
There are 180 Houses in the U.S. The charity, started in 1974, provides housing, meals, activities and support programs to families who have children undergoing serious medical procedures.
The surprising story behind McDonald's legendary Golden Arches
Laurie Wolf Cepkauskas' daughter Emily suffers from a heart defect called Atrioventricular Septal Defect (also known as AV Canal). At just 9-months-old, Emily has already undergone two open heart surgeries.
Cepkauskas says the support and care her family received while staying at a local Ronald McDonald House during Emily's procedures extended way beyond the help from the center's employees.
"I want people to know that this charity is best described as the best support group you never want to be part of," the 30-year-old stylist told FoxNews.com.
"It sounds crazy but everyone in that house has one thing in common, our child is very sick.  Many nights we would meet in the kitchen at 2 a.m. because we couldn't sleep and another mom would be down there crying.  We didn't have to say anything, we just knew and we just sat there and cried together."
Over 7 million families were assisted by RMHC last year. In addition to alleviating the financial burden of families facing large medical bills by providing housing near hospital facilities, the charity recognizes the benefit of keeping people together while allowing families to bond during difficult times.
McDonald's testing breakfast Happy Meals 
Heading into the holiday season of giving, McDonald's is offering a free small fry or hash brown to everyone who donates $1, $3 or $5 to RHMC now until Nov. 13th.
[Source:-Fox news]