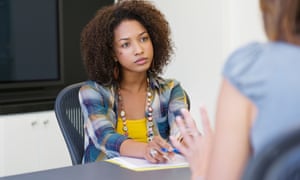 Twice a week we publish problems that will feature in a forthcoming Dear Jeremyadvice column in the Saturday Guardian so that readers can offer their own advice and suggestions. We then print the best of your comments alongside Jeremy's own insights.
After being made redundant some years ago I have freelanced, but work has all but dried up and it is time to get a job. However, I also intend to retrain and do a lot of volunteering to that end – without voluntary experience I cannot get on the necessary postgraduate training programme. I also intend to do a distance learning course.
The jobs I am applying for are the sort where career progression is expected to be planned for.
Should I tell potential new employers that I intend to retrain and change career or keep quiet about it? Although I could just omit to mention my plans in interviews, I'm worried that to leave soon after getting a job might leave a black mark on my CV.
Do you need advice on a work issue? For Jeremy's and readers' help, send a brief email to [email protected]. Please note that he is unable to answer questions of a legal nature or to reply personally.
[Source"pcworld"]