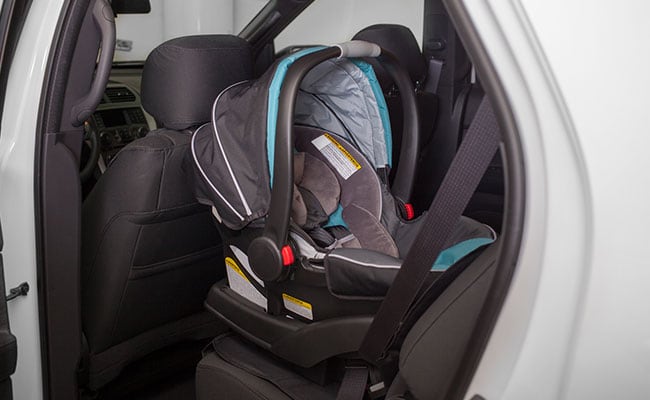 When Michael Thedford arrived at the daycare Tuesday morning to drop off his three children, he found that the youngest, his 6-month old daughter, was a little ill and running a fever. So he dropped off the 5-year-old and the 3-year-old and headed back home in his van with the infant, Fern.
When he reached his house in Melissa, Texas, though, he decided he needed a nap. In his haste to get inside, he forgot Fern in the van while he slept for about four hours, according to the arrest warrant obtained by WFAA.
The temperature in Melissa soared to 95 degrees that day.
At 1 p.m., Michael woke up and realized his daughter was in the car. Panicking, he ran to the front yard, according to the warrant. When he reached the van and flung open the door, he found his daughter "stiff" as a board and "hot as a brick."
She was unresponsive as he carried her little body into the house.
Apparently in an attempt to cool her down, Michael then did the unthinkable: he placed his daughter in the refrigerator, among the Thedfords' groceries, and left her there for "an undetermined length of time," authorities said.
After a while, he pulled her body from the fridge and attempted to perform CPR. Only then did he call his wife and the authorities, both of whom rushed to the house.
According to a neighbor, the couple hugged and cried together.
Fern was dead. Michael has since been charged with manslaughter.
The firefighters and paramedics left quickly after they arrived, but the detectives remained behind.
They pointed cameras at Michael and asked him to reenact what had happened.
"They used a Mickey Mouse type of doll for him to show what happened," Fabiola Contreras, the Thedfords' neighbor, told KDFW. "And now that I think about it, they also were measuring from the van to the door."
The Thedfords had always seemed like a loving family, the neighbor said. Michael worked as a substitute teacher, and his wife was a well-known local veterinarian. In fact, Contreras had witnessed the family laughing and joking around just a few days prior.
"It's kind of shocking how this happened because on Sunday we saw family members and them having a good time for Father's Day," Contreras said.
Bill Hemby, the assistant superintendent of Celina High School, where Michael taught introductory physics and chemistry last year, said Michael deeply loved his children.
"Michael is rocket-science smart," Hemby told WFAA. "He did a great job for us while he was here. We all had an understanding of how much he loved his children. We're all in mourning, just like he is."
Michael's father, Stan Thedford, had a similar reaction, telling WFAA that his son was a doting and loving father.
But as countless similar tragedies have demonstrated, loving your kids and being well-educated affords no protection from such tragic events, which are all too common.
"Every year at this time it happens to people from all walks of life," Stan said. "It's something we should all be more aware of."
He's right. As of June 9, at least 11 children had died in 2016 after being left in hot cars, CNN reported. That's triple the number of deaths recorded in 2015. Since 1990, about 700 children have perished this way in the U.S., according to the nonprofit safety group Kids and Cars.
The temperature in a car can rise rapidly, and children left inside – even for just a half hour, even on a relatively cool spring or summer day – are almost immediately in danger.
Christopher Haines, director of pediatric emergency medicine at St. Christopher's Hospital for Children in Philadelphia, told WebMD that most parents don't understand how quickly an innocuous errand can turn deadly.
"On a day that is just 72 degrees Fahrenheit, the temperature [inside a car] can increase by 30 to 40 degrees in an hour, and 70 percent of this increase occurs the first 30 minutes," Haines said.
In addition, a child's body heats up three to five times faster than an adult's, according to the Seattle Children's Hospital.
It should be noted that if this does happen, a refrigerator is not the proper way to cool a child down. If you accidentally leave a child in a hot car, call the authorities immediately. Death can come quickly from heat stroke. While waiting for the proper authorities, cover the baby with cool damp clothes and get the child into the shade, according to advice from the Women's and Children's Health Network.
As for how to remember one's children, Safe Kids Worldwide CEO Kate Carr said it's best to leave a physical reminder of the child in the backseat.
"A car can heat up about 19 degrees in as little as 10 minutes, and we've seen heat stroke deaths recorded when the temperature is in the 60s," Carr told CNN. "Put something in the back seat where a child seat is always located that you're going to need at your final destination, something you know you're going to look for, like your cell phone, your purse, a briefcase."
Added Carr, "This, in fact, can happen to anyone, and we've seen it happen to anyone."
Michael Thedford was booked in the Collin County Jail, and posted a $20,000 bond late Tuesday. Booking records list no attorney for Thedford, the Associated Press reported Wednesday morning. It was also unclear as of Wednesday morning whether Thedford had entered a plea, according to ABC News.
[Source  NDTV]